Pengaruh Enterprise Resource Planning Terhadap Supply Chain Management dan Corporate Performance pada Perusahaan Korea Jababeka
Miftakul Huda

Universitas Pelita Bangsa
Keywords:
Enterprise Resource Planning, Supply Chain Management, Corporate Performance
Abstract
Penelitian ini bertujuan untuk mengetahui pengaruh implementasi ERP pada kinerja SCM, pengaruh implementasi ERP pada kinerja perusahaan dan pengaruh kinerja SCM pada kinerja perusahaan pada perusahaan korea di Jababeka. Penelitian ini bertujuan agar dapat melakukan sesuatu yang lebih baik, lebih efektif dan efisien serta untuk menganalisis hubungan dan pengaruh antar setiap variabel. Menurut tingkat eksplanasi jenis penelitian ini termasuk dalam penelitian asosiatif kausal. Kategori pengambilan sampel dalam penelitian ini termasuk non probability sampling dengan menggunakan teknik purposive sampling. Penulis menggunakan metode analisis dengan SEM-AMOS dengan jumlah sampel 300 responden. Penelitian ini menemukan bahwa implementasi ERP berpengaruh terhadap kinerja SCM, Implementasi ERP berpengaruh terhadap kinerja perusahaan, kinerja SCM berpengaruh terhadap kinerja perusahaan dan ERP berpengaruh secara tidak langsung terhadap kinerja perusahaan melalui kinerja SCM. Melalui analisis full model menunjukkan hasil penelitian bahwa full model memenuhi goodness of fit.
References
Ferdinand, Augusty. 2014. STRUCTURAL EQUATION MODELING. Edisi 5. Semarang: Badan Penerbit Universitas Diponegoro.
Ghozali, Imam. 2017. Model Persamaan Struktural Konsep Dan Aplikasi Dengan Program AMOS 24. Semarang: Badan Penerbit Universitas Diponegoro.
Hair et al. 2014. Multivariate Data Analysis.
Haryono, Siswoyo. 2017. Metode SEM Untuk Penelitian Manajemen Dengan AMOS LISREL PLS. Luxima Metro Media.
Heizer, Jay, and Barry Render. 2015. Operations Management (Manajemen Operasi). 11th ed. edited by D. anoegrah Wati and I. Almahdy. Jakarta: Salemba Empat.
Ince, Huseyin, Salih Zeki Imamoglu, Halit Keskin, Aliekber Akgun, and Mehmet Naci Efe. 2013. "The Impact of ERP Systems and Supply Chain Management Practices on Firm Performance: Case of Turkish Companies." Procedia - Social and Behavioral Sciences 99:1124–33. doi: 10.1016/j.sbspro.2013.10.586.
Kini, Ranjan B., and Savitri Basaviah. 2013. "Critical Success Factors in the Implementation of Enterprise Resource Planning Systems in Small and Midsize Businesses: Microsoft Navision Implementation." International Journal of Enterprise Information Systems 9(1):97–117. doi: 10.4018/jeis.2013010106.
Kress, N. 2012. "A Supply Chain Model for Library Quality and Service Improvement." Bibliotecadigital.Fgv.Br 5:40–53.
Kurniawati, EP dan, and Permadi. 2015. "Penerapan Enterprise Resource Planning System Pada PT Garuda Indonesia (Persero)." Jurnal Manajemen Dan Keuangan 9(2):88–108.
Putra, Arta Rusidarma, and Shella Fiolyta. 2019. "Pengaruh Penerapan Enterprise Resource Planning Terhadap Kinerja Supply Chain Management." Jurnal Ilmiah Manajemen Dan Bisnis 19(2):97–109. doi: 10.30596/jmanbis.v19i2.2090.
Suharto, R. ;. Devi. 2013. "Analisa Pengaruh Supply Chain Management Terhadap Keunggulan Bersaing Dan Kinerja Perusahaan." Business Accounting Review 1(2).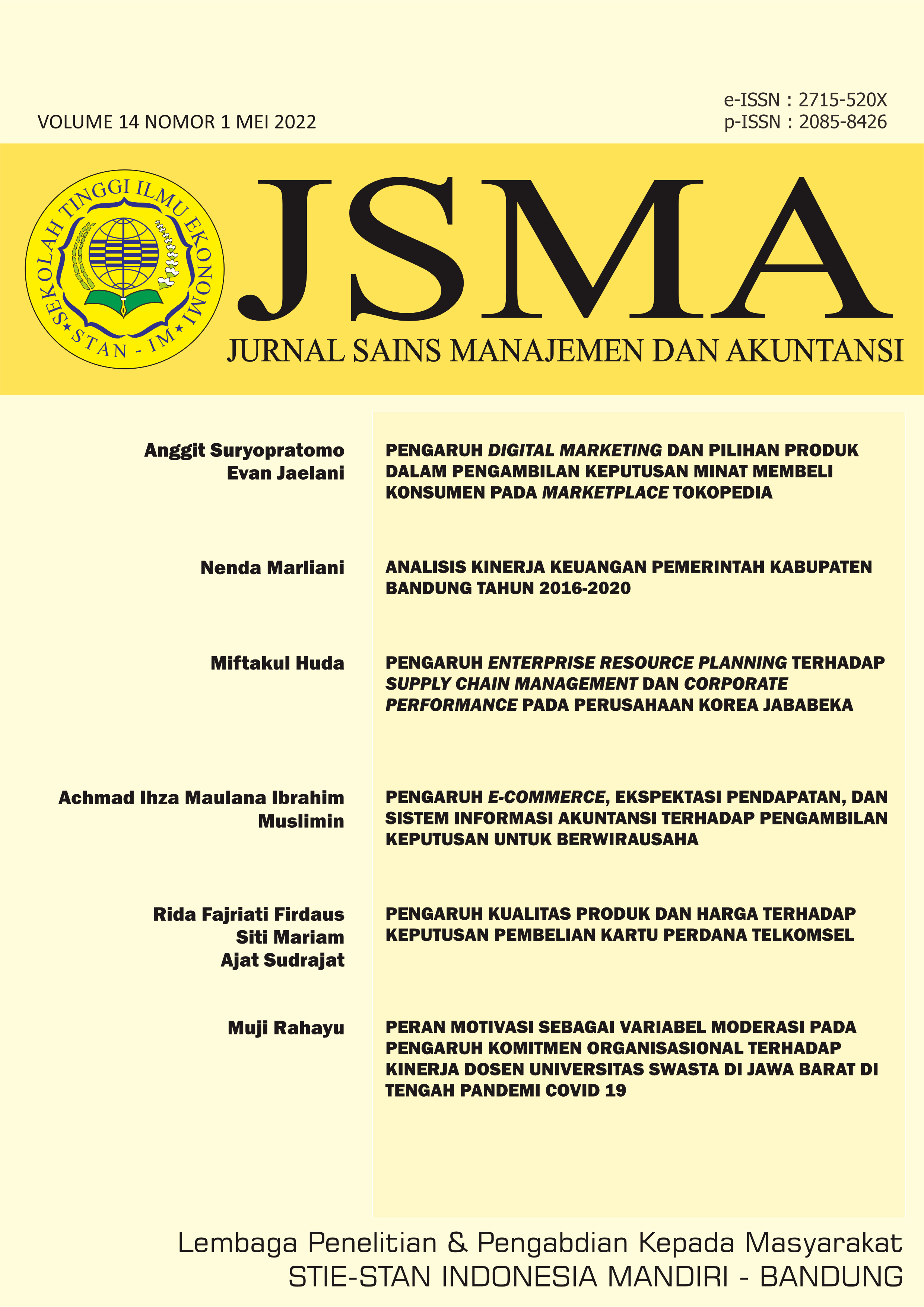 Copyright (c) 2022 JSMA (Jurnal Sains Manajemen dan Akuntansi)
This work is licensed under a Creative Commons Attribution 4.0 International License.
Tanggunjawab Penulis
Penulis menyajikan artikel penelitian atau hasil pemikiran secara jelas, jujur, dan tanpa plagiarisme.
Penulis harus menunjukkan rujukan dari pendapat dan karya orang lain yang dikutip.
Penulis bertanggungjawab atas konfirmasi yang diajukan atas artikel yang telah ditulis.
Penulis harus menulis artikel secara etis, jujur, dan bertanggungjawab, sesuai dengan peraturan penulisan ilmiah yang berlaku.
Penulis tidak keberatan jika artikel mengalami penyuntingan tanpa mengubah substansi