Analisis SWOT Pada Layanan Jasa Mobile Banking Di PT Bank Panin Dubai Syariah
Muhammad Ryzki Wiryawan Wiryawan

Universitas Ma'soem

Cici Amalia Hidayati Sulaiman

STIBANKS Al Masoem
Keywords:
Mobile Banking, SWOT, Bank Syariah
Abstract
Dalam beberapa tahun terakhir, Bank telah menyesuaikan layanan perbankannya, dari yang sebelumnya berbasis kertas menjadi berbasis seluler atau mobile.  Adopsi Mobile-banking telah mendapat perhatian lebih dalam beberapa tahun terakhir, karena memang ada lebih banyak telepon daripada komputer di pasaran. Di Indonesia, satu per satu bank mulai mengadopsi teknologi tersebut untuk bisa bersaing, salah satunya Bank Panin Dubai Syariah yang memulainya pada 2019. Penelitian ini mencoba menganalisis layanan jasa mobile banking di PT Bank Panin Dubai Syariah menggunakan pendekatan SWOT. Penelitian ini menggunakan metode kualitatif deskriptif, Menggunakan teknik pengumpulan data berupa observasi, wawancara, dokumentasi, dan studi pustaka. Studi menunjukan bahwa berdasarkan diagram cartesius, layanan Mobile Banking Bank Panin Dubai Syariah berada pada kuadran I (satu) yaitu mendukung growth oriented strategy (strategi agresif).
References
Abbas, S. K., Hassan, H. A., Asif, J., Junaid, H. M., & Zainab, F. (2018). What are the key determinants of mobile banking Adoption in Pakistan. International Journal of Scientific & Engineering Research, 841–848.
Abbas, S. K., Hassan, H. A., Iftikhar, S., & Waris, A. (2018). Assimilation of TTF and UTAUT for Mobile Banking Usage. International Journal of Advanced Engineering, Management and Science (IJAEMS), 4.
Bungin & Burhan. (2008). Analisa Data Penelitian Kualitatif. Jakarta: Prenada Media Group.
Cheng, D., Liu, G., & Qian, C. (2008). On Determinants of User Acceptance of Internet Banking: A Theoretical Framework and Empirical Study. In Advance Management of Information for Globalized Enterprises. IEEE Symposium. https://doi.org/https://doi.org/10.1109/AMIGE.2008.ECP.20
Cheung, C. M., & Lee, M. K. (2005). Consumer satisfaction with internet shopping: a research framework and propositions for future research. 7th International Conference on Electronic Commerce. https://doi.org/https://doi.org/10.1 145/1089551.1089612
Chirani, I., & Ghofrani, Y. R. (2010). Designing a model for explanation of the internet banking acceptance rate. In Information Management and Engineering (ICIME). The 2nd IEEE International Conference. https://doi.org/https://doi.org/1 0.1109/ICIME.2010.5478241
Darussalam, A. Z. and Malik, A. D. (2017). Konsep Perdagangan dalam Tafsir Al-Mishbah (Paradigma Filsafat Ekonomi Qur'ani Ulama Indonesia). ALTijarah.
Glaister, K. W., & Falshaw, J. R. (1999). Strategic planning: Still going strong? Long Range Planning.
Habibi, Y. (2016). Refleksi setahun laku pandai. Republika. Retrieved from http://www.republika.co.id.
Hafiz, A. (2018). Analisis SWOT Layanan Mobile Banking Pada Bank Syariah Mandiri Kantor Cabang Pondok Indah. Jakarta.
Herawati, A., & Listyawati, L. (2017). Faktor Penentu Keputusan Nasabah Muslim Dan Non Muslim Dalam Memilih Jasa Bank Syariah Di Kota Surabaya. Jurnal Ilmu Administrasi: Media Pengembangan Ilmu Dan Praktek Administrasi. https://doi.org/https://doi.org/10.31113/jia.v14i2.114
Hung, K. (2013). Understanding China's Hotel Industry: A SWOT Analysis Understanding China's Hotel Industry: A SWOT Analysis. Journal of China Tourism Research. https://doi.org/doi: 10.1080/19388160.2013.756771
Ikatan Bankir Indonesia. (2014). Mengelola Kualitas Layanan Perbankan (Lembaga Sertifikasi Profesi Perbankan (LSPP). Jakarta: Gramedia Pustaka Utama.
Kadir, A. (2003). Pengenalan Sistem Informasi. Jakarta: Andi.
Karim, A. A. (2003). Islamic Banking: Fiqih and Financial Analysis. Jakarta: PT Raja Grafindo Persada.
Kim, Y. J., Chun, J. U., & Song, J. (n.d.). Investigating the role of attitude in technology acceptance from an attitude strength perspective. International Journal of Information Management, 29(1). https://doi.org/https://doi.org/10.1016/j.ijinfomgt.2008.01.011
Kotler, P., dan G. A. (2008). Prinsip-prinsip pemasaran jilid 1. Jakarta: Penerbit Erlangga.
Moleong, L. J. (2005). Metodologi Penelitian Kualitatif. Bandung: Remaja Rosdakarya.
Mukhtar. (2013). Metode Penelitian Deskriftif Kualitatif. Jakarta: GP Press Group.
Ningrum, N. P. N. (2019). Analisis Strategi Bisnis pada Layanan Aplikasi Mobile Pegadaian Syariah Digital (PSD) Menggunakan SWOT Analysis.
Pavlou, F. (2001). Perceived Usefulnes, Perceived Ease of Use and User Acceptance of Information Technology. MIS Quarterly.
Rangkuti, F. (2016). Analisis SWOT: Teknik Membedah Kasus Bisnis Cara Perhitungan Bobot, Rating, dan OCAI. Jakarta: PT Gramedia Pustaka Utama.
Rema, Y.& Setyohadi, D. B. (2016). Faktor-Faktor Yang Mempengaruhi Penerimaan Mobile Banking Studi Kasus: BRI Cabang Bajawa. Seminar Riset Teknologi Informasi (SRITI).
Ronny. (2017). Enam Kekuatan Layanan Jasa Internet Banking: Tinjauan Dari Persepsi Nasabah. Jurnal Organisasi Dan Manajemen.
Silver, L., Smith, A., Johnson, C., Taylor, K., Jiang, J., Anderson, M., & Rainie, L. (2019). Mobile connectivity in emerging economies. Pew Research Center.
Sugiyono. (2018). Metode Penelitian Kuantitatif, Kualitatif, dan R&D. Bandung: Alfabeta.
Tutuko, B., Hudaifah, A. and Zulfikar, D. (2017). Structuring Model for Corporate Productive Cash- Waqf in Indonesia (A Case Study of PT .Semen Indonesia). Journal of Islamic Finance, Special Issue.
Usman, R. (n.d.). Aspek Hukum Perbankan Syariah di Indonesia. Jakarta: Sinar Grafika.
Wibowo, Edy, dkk. (2005). Mengapa Memilih Bank Syariah? Bogor: Ghalia Indonesia cet.I.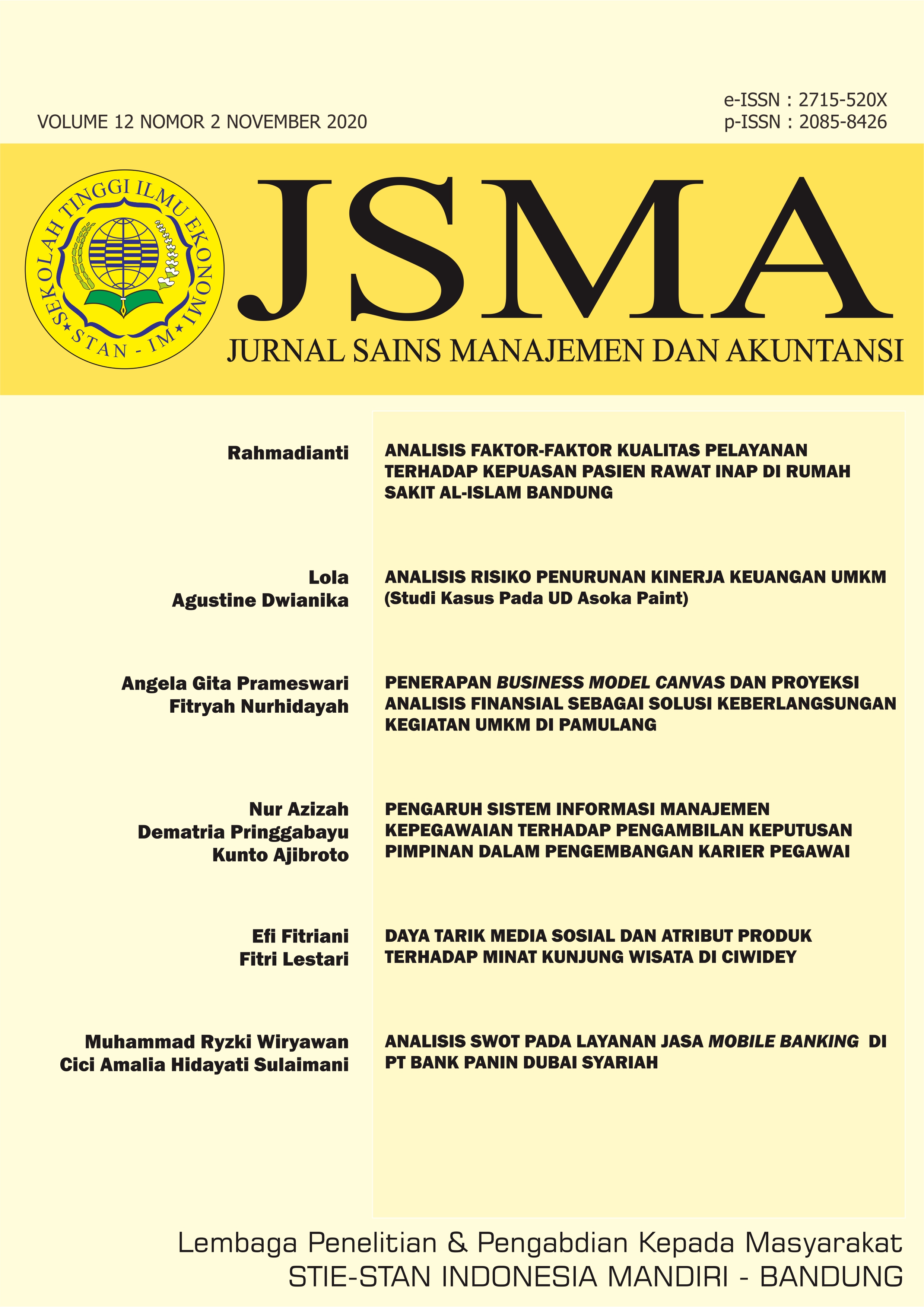 Copyright (c) 2020 JSMA (Jurnal Sains Manajemen dan Akuntansi)
This work is licensed under a Creative Commons Attribution 4.0 International License.
Tanggunjawab Penulis
Penulis menyajikan artikel penelitian atau hasil pemikiran secara jelas, jujur, dan tanpa plagiarisme.
Penulis harus menunjukkan rujukan dari pendapat dan karya orang lain yang dikutip.
Penulis bertanggungjawab atas konfirmasi yang diajukan atas artikel yang telah ditulis.
Penulis harus menulis artikel secara etis, jujur, dan bertanggungjawab, sesuai dengan peraturan penulisan ilmiah yang berlaku.
Penulis tidak keberatan jika artikel mengalami penyuntingan tanpa mengubah substansi