HUBUNGAN ANTARA PERCEIVED ORGANIZATIONAL SUPPORT DAN TASK PERFORMANCE DENGAN ORGANIZATION CITIZENSHIP BEHAVIOR
(STUDI PADA PT. PS)
Aries

sekolah tinggi ilmu ekonomi stan im

Teti Nurbaeti

sekolah tinggi ilmu ekonomi stan im
Keywords:
perceived organizational support, task performance, organization citizenship behavior, intervening, tujuan organisasi
Abstract
Semua tujuan organisasi, pada dasarnya kembali pada aspek manusianya. Manusia sebagai penentu tujuan organisasi, pengelola organisasi, dan pengendali organisasi untuk mencapai tujuan tersebut. Dalam hal ini, kembali pada task performance individual para karyawannya yang mendinamisir organisasi. Penelitian ini menempatkan task performance sebagai konsekuensi perceived organizational support dan sebagai anteseden bagi organization citizenship behavior. Teknik analisis menggunakan analisis jalur. Hasil penelitian menunjukkan bahwa perceived organization support memiliki hubungan positif dengan task performance. Demikian pula, task performance memiliki hubungan positif dengan organizational citizenship behavior. Penelitian ini juga menunjukkan pentingnya keberadaan task performance sebagai mediator antara perceived organizational support dengan organization citizenship behavior.
References
Becker, B., and B. Gerhart. 1996. The Impact of Human Resource Management on organizational Performance Progress and Prospects. Academy of Management Journal, Vol. 39, pp.779-801.
Borman, W. C., and Motowidlo, S. J. (1993). Expanding the Criterion Domain to Include Elements of Contextual Performance. In N. Schmitt & W. C. Borman (Eds.), Personnel Selection in Organizations (pp. 71-98). San Francisco: Jossey-Bass.
Cavanaugh, Marcie A., and Raymond A. Noe. 1999. Antecedents and Consequences of Relational Components of the New Psychological Contract. Journal of Organizational Behavior, Vol. 20, No. 3, p.323.
Eisenberger, R., Huntington, R., Hutchison, S., & Sowa, D. 1986. Perceived Organizational Support. Journal of Applied Psychology, Vol. 71, No. 3, pp. 500-507.
George, J. M., and Bettenhausen, K. 1990. Understanding Prosocial Behavior, Sales Performance, and Turnover: A Group Level Analysis in a Service Context. Journal of Applied Psychology, Vol. 75, pp. 698-709.
Kaufman. J .D., C. L. Stamper., and P.E Tesulk. 2010. Do Supportive Organizations Make for Good Corporate Citizens? Journal of Managerial Issues, Vol. 13 No. 4, pp. 436- 449.
Novliadi, Ferry. 2006. Organizational Citizenship Behavior Karyawan Ditinjau dari Persepsi terhadap Kualitas Interaksi Atasan-Bawahan dan Persepsi Terhadap Dukungan Organisasional. Psikologia, Vol. 2, No. 1, pp. 39- 46
Podsakoff, P. M., Ahearne, M., and Mackenzie, S. B. 1997. Organisational Citizenship Behaviour and the Quantity and Quality of Work Group Perfomance. Journal of Applied Psychology, Vol. 82, No. 2, pp. 262-270.
Randall, Marjorie L., Russell Cropanzano., Carol A. Bormann., and Andrej Birjulin. 1999. Organizational Politics and Organizational Support as Predictors of Work Attitudes, Job Performance, and Organizational Citizenship Behavior. Journal of Organizational Behavior, Vol. 20, pp. 159-174.
Setiawan, Ivan Aries. 2012. Hubungan antara Perceived Organizational Support, Job Engagement, dan Task Performance dengan Organizational Citizenship Behavior.. Jurnal Sains Manajemen & Akuntansi, Vol. IV No. 2. STIE STAN-Indonesia Mandiri.
Setiawan, Ivan Aries., dan Ferdiansyah Ritonga, M. Ak., 2010. Analisis Jalur dengan Menggunakan Program AMOS. Suluh Ilmu. Yogyakarta.
Shore, L.M., and Wayne, S.J. 1993. Commitment and Employee Behavior Comparison of Affective Commitment and Continuance Commitment with Perceived Organizational Support. Journal of Applied Psychology, Vol. 78, pp. 774-780.
Wulani, F. (2004). Analisis Hubungan Politik dan Dukungan Organisasional dengan Sikap Kerja, Kinerja and Perilaku Citizenship Organisasional. Kinerja, Vol. 8 No. 2, pp. 111-132.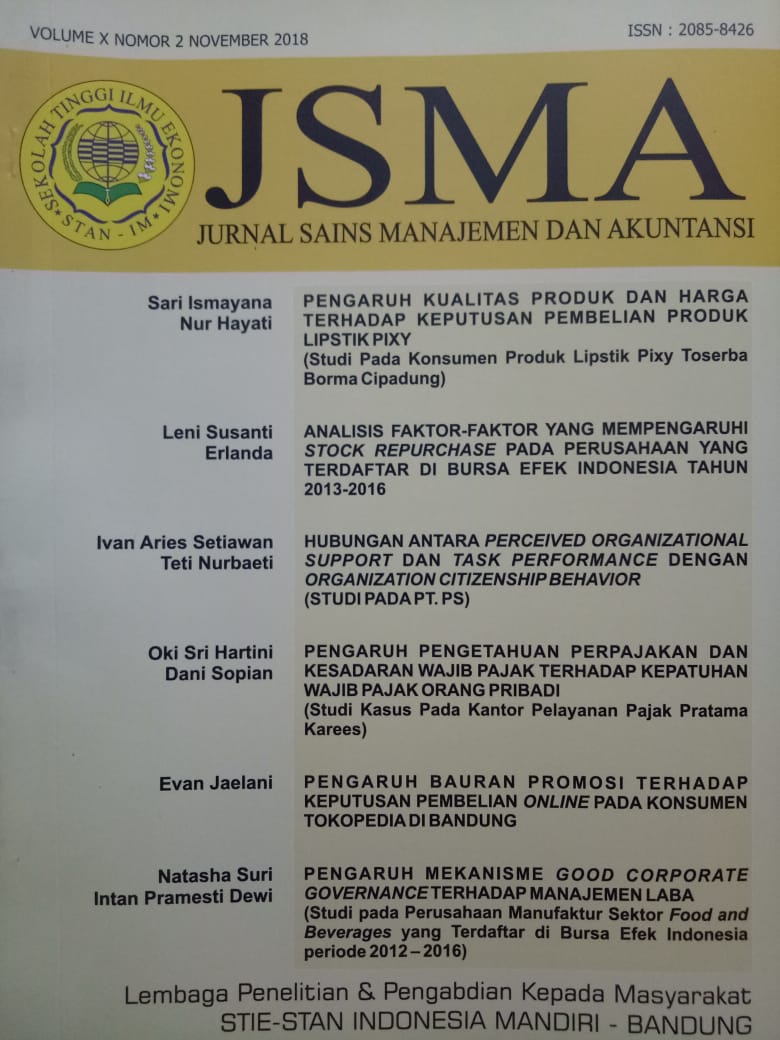 Tanggunjawab Penulis
Penulis menyajikan artikel penelitian atau hasil pemikiran secara jelas, jujur, dan tanpa plagiarisme.
Penulis harus menunjukkan rujukan dari pendapat dan karya orang lain yang dikutip.
Penulis bertanggungjawab atas konfirmasi yang diajukan atas artikel yang telah ditulis.
Penulis harus menulis artikel secara etis, jujur, dan bertanggungjawab, sesuai dengan peraturan penulisan ilmiah yang berlaku.
Penulis tidak keberatan jika artikel mengalami penyuntingan tanpa mengubah substansi