Pengaruh HRM Practice, Work-Family Conflict dan Job Satisfaction terhadap Employee Performance pada Karyawan di Perusahaan Manufaktur di Jakarta Barat
Ineke Amastya Aprilianti -

universitas trisakti

Netania Emilisa

Universitas Trisakti
Keywords:
HRM Practice, Work-Family Conflict, Job Satisfaction, Employee Performance
Abstract
Kinerja memiliki peranan yang sangat penting dalam suatu perusahaan, jika terjadi penurunan pada kinerja maka berpengaruh pada perusahaan yang akan mengalami kebangkrutan. Kinerja yang baik menjadi tuntutan yang harus dilakukan para pekerja agar tujuan dapat tercapai, yang mana hal tersebut pada nyatanya sulit terjadi karena masih banyaknya pekerja yang belum berkinerja cukup baik. Salah satu contohnya terjadi pada perusahaan Manufaktur di Jakarta Barat yakni dalam data fenomena yang sesuai dengan wawancara di beberapa perusahaan menunjukan rendahnya Employe Perfomance yang ada menunjukan bahwa pekerjaan selalu tidak memenuhi target seharusnya. Penelitian ini bertujuan untuk meneliti pengaruh HRM Practice, Work-Family Conflict dan Job Satisfaction terhadap Employee Performance pada karyawan di Perusahaan Manufaktur di Jakarta Barat. Data yang di kumpulkan dari 155 karyawan yang bekerja di perusahaan Manufaktur di Jakarta Barat. Data diperoleh dengan dengan metode purposive sampling dan teknik non probability sampling. Hasil pengujian hipotesis bahwa terdapat pengaruh positif antara HRM Practice terhadap Employe Perfomance. Work family conflict berpengaruh negatif terhadap employe performance dan Job Satisfaction berpengaruh positif terhadap Employe performance. Serta implikasi bagi perusahaan Manufaktur di Jakarta Barat
References
Abdullah, Z., Ahsan, N., & Shah Alam, S. (2009). The Effect of Human Resource Management Practices on Business Performance among Private Companies in Malaysia.
Alsafadi, Y., & Altahat, S. (2021). Human Resource Management Practices and Employee Performance: The Role of Job Satisfaction. Journal of Asian Finance, Economics and Business, 8(1), 519–529. https://doi.org/10.13106/jafeb.2021.vol8.no1.519
Derks, D., Bakker, A. B., Peters, P., & van Wingerden, P. (2016). Work-related smartphone use, work–family conflict and family role performance: The role of segmentation preference. Human Relations, 69(5), 1045–1068. https://doi.org/10.1177/0018726715601890
Fonataba, D., & Marchyta, N. K. (2021). PENGARUH JOB SATISFACTION TERHADAP EMPLOYE PERFOMANCE MELALUI WORK MOTIVATION PADA PT WELLGAN GEMILANG GROUP. 9.
Hair, J. F., Black, W. C., Babin, B. J., & Anderson, R. E. (2010). Multivariate data analysis.
Hari Adi, P., & Adawiyah, W. R. (2018). The impact of religiosity, environmental marketing orientation and practices on performance: A case of Muslim entrepreneurs in Indonesia. Journal of Islamic Marketing, 9(4), 841–862. https://doi.org/10.1108/JIMA-09-2016-0067
Hidayatuallah, T. (2018). PENGARUH MOTIVASI DAN KEPUASAN KERJA TERHADAP KINERJA KARYAWAN MANUFAKTUR DI KARAWANG. Manajemen & Bisnis Kreatif.
Radita, F. R., Ainul Amri, W. A., Supiana, N., Sasono, I., Pramono, T., Novitasari, D., Chidir, G., & Asnaini, S. W. (2021). Work-Family Conflict among Employees: What is the Role of Religiosity on Job Satisfaction and Performance. International Journal of Science and Management Studies (IJSMS), 45–59. https://doi.org/10.51386/25815946/ijsms-v4i1p105
Rani Hangga Indria, & Mayangsari, mega. (2015). Pengaruh Penilaian Kinerja Terhadap Kinerja Karyawan Dengan Motivasi Sebagai Variabel Moderasi.
sekaran, uma, & Bougie, roger. (2010). Research Methods for busines (fifth).
Siahaan, Y. F. (2014). PENGARUH HUMAN RESOURCES MANAGEMENT PRACTICE TERHADAP EMPLOYEE INTENTION TO STAY PADA PT MEDIA NUSANTARA INFORMASI (SINDO).
Warokka, A., & Febrilia, I. (2014). Work-family conflict and job performance: Lesson from a Southeast Asian emerging market. Proceedings of the 24th International Business Information Management Association Conference - Crafting Global Competitive Economies: 2020 Vision Strategic Planning and Smart Implementation, 1919–1934. https://doi.org/10.5171/2015.420802
Wicaksana, R. H., Rahadhini, M. D., & Suddin, A. (2017). PERFORMANCE AFFECTED WORK ENVIRONMENT, MOTIVATION AND COMPENSATION IN EMPLOYEES MANUFACTURING COMPANY).
Yunita, P. I., Rosa, P., & Astawa, W. (2019). KONFLIK PERAN DAN AMBIGUITAS PERAN SEBAGAI PREDIKTOR KINERJA KARYAWAN PADA BPR DI KABUPATEN GIANYAR.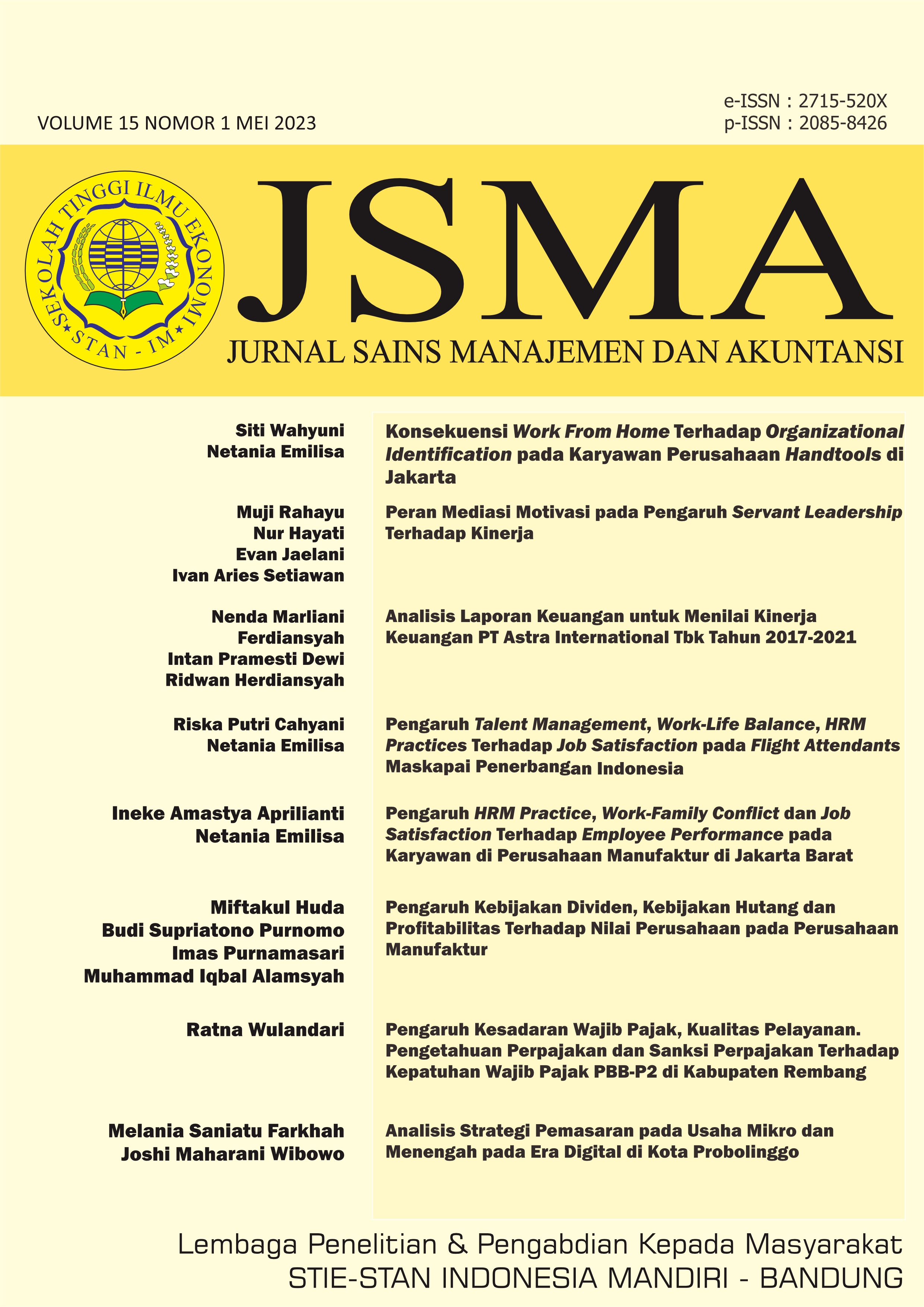 Copyright (c) 2023 JSMA (Jurnal Sains Manajemen dan Akuntansi)
This work is licensed under a Creative Commons Attribution 4.0 International License.
Tanggunjawab Penulis
Penulis menyajikan artikel penelitian atau hasil pemikiran secara jelas, jujur, dan tanpa plagiarisme.
Penulis harus menunjukkan rujukan dari pendapat dan karya orang lain yang dikutip.
Penulis bertanggungjawab atas konfirmasi yang diajukan atas artikel yang telah ditulis.
Penulis harus menulis artikel secara etis, jujur, dan bertanggungjawab, sesuai dengan peraturan penulisan ilmiah yang berlaku.
Penulis tidak keberatan jika artikel mengalami penyuntingan tanpa mengubah substansi