Peran Mediasi Motivasi pada Pengaruh Servant Leadership Terhadap Kinerja
Muji Rahayu

sekolah tinggi ilmu ekonomi stan im

Nur Hayati

Sekolah Tinggi Ilmu Ekonomi STAN IM

Evan Jaelani

Sekolah Tinggi Ilmu Ekonomi STAN IM

Ivan Aries Setiawan

Sekolah Tinggi Ilmu Ekonomi STAN IM
Keywords:
Kinerja, Motivasi, Servant Leadership
Abstract
Latar belakang penelitian ini adalah kinerja dosen Universitas Swasta di Jawa Barat yang berdasarkan data awal belum mencapai target yang telah ditetapkan. Oleh karena itu penelitian ini dilakukan dengan, tujuan untuk mengetahui efek mediasi motivasi yang menjembatani pengaruh positif servant leadership terhadap kinerja. Populasi adalah dosen Universitas Swasta di Jawa Barat, responden sebanyak 102, yang ditentukan dengan menggunakan teknik random sampling. Data yang digunakankan adalah data primer yang diperoleh melalui penyebaran kuesioner.Metode analisis yang digunakan adalah deskriptif dan verifikatif.  Berdasarkan hasil uji hipotesis dapat terkonfirmasi bahwa   bahwa servant leadership dan motivasi memiliki pengaruh positif terhadap kinerja.  sebagai mediasi.  motivasi memediasi   pengaruh servant Leadership terhadap kinerja. Hal ini berarti bahwa ketika motivasi dosen meningkat maka kinerja meningkat.  Hasil ini dapat dimaknai bahwa motivasi memiliki pengaruh tidak langsung terhadap tingkat kinerja dosen., yaitu kinerja yang dihasilkan akan lebih tinggi apabila motivasi yang dimiliki oleh dosen tinggi.
References
A.c. Simatupang & P. saroyeni. (2018). The Effect of Discipline, Motivation, And commitment to Employee Performance. Journal of Business Management (IQSR JBM), 20(6), 31–37.
Al Hila, A. A., & Al Shobaki, M. J. (2017). THE ROLE OF SERVANT LEADERSHIP IN ACHIEVING EXCELLENCE PERFORMANCE IN TECHNICAL COLLEGES-PROVINCES OF GAZA STRIP THE ROLE OF SERVANT LEADERSHIP IN ACHIEVING EXCELLENCE PERFORMANCE IN TECHNICAL COLLEGES-PROVINCES OF GAZA STRIP THE ROLE OF SERVANT LEADERSHIP IN ACHIEVING EXCELLENCE PERFORMANCE IN TECHNICAL COLLEGES-PROVINCES OF GAZA STRIP. In International Journal of Management Research and Business Strategy (Vol. 6, Issue 1). https://hal.archives-ouvertes.fr/hal-01571279
Allen, G. P., Moore, W. M., Moser, L. R., Neill, K. K., Sambamoorthi, U., & Bell, H. S. (n.d.). The Role of Servant Leadership and Transformational Leadership in Academic Pharmacy.
Andrew F.Hayes. (2018). Introduction to Mediation, Moderation, and Conditional Process Analysis. The Guildford Press.
Bagus Agung Dharmanegara, I., Wayan Sitiari, N., & Endra Adelina, M. (2016). The Impact of Organizational Commitment, Motivation and Job Satisfaction on Civil Servant Job Performance in State Plantation Denpasar. 18, 41–50. https://doi.org/10.9790/487X-18224150
Bangun, W. (2018). Manajemen Sumber Daya Manusia. Erlangga.
F. Luthans. (2018). Perilaku Organisasi. Andi.
Garry Yukl. (2018). Kepemimpinan dan Perilaku Organisasi (5th ed.). Indeks.
Gibson. (2016). Organizations Behavior, Structure, Processes. Mc Graw- Hill irwin.
Harwiki, W. (n.d.). Influence of Servant Leadership to Motivation, Organization Culture, Organizational Citizenship Behavior (OCB), and Employee's Performance in Outstanding Cooperatives East Java Province, Indonesia (Vol. 8, Issue 5). www.iosrjournals.orgwww.iosrjournals.org50%7C
Ibrahim, M., Saputra, J., Adam, M., & Yunus, M. (2022). Organizational Culture, Employee Motivation, Workload and Employee Performance: A Mediating Role of Communication. WSEAS Transactions on Business and Economics, 19, 54–61. https://doi.org/10.37394/23207.2022.19.6
Jurnal, L., Keradjaan, H., Sondakh, J. J., Tawaas, H. N., & Sumarauw, J. S. (2020). The Effect of Servant Leadership on Lecturer Performance Through Trust in Leader as A Mediation Variable. International Journal of Social Science and Business, 4(3), 344–351. https://ejournal.undiksha.ac.id/index.php/IJSSB/index
Koesmono, H. T. (2014). The Influence of Organizational Culture, Servant Leadership, and Job Satisfaction Toward Organizational Commitment and Job Performance Through Work Motivation as Moderating Variables for Lecturers in Economics and Management of Private Universities in East Surabaya. Educational Research International, 3(4). www.erint.savap.org.pk
M. Nazir. (2014). Metode Penelitian. Ghalia Indonesia.
Mulyadi, D. (2015). Perilaku Organisasi dan Kepemimpinan Pelayanan. Alfabeta.
Narasuci, W., & Setiawan Noermijati, M. (2018). Effect of Work Environment on Lecturer Performance Mediated EFFECT OF WORK ENVIRONMENT ON LECTURER PERFORMANCE MEDIATED BY WORK MOTIVATION AND JOB SATISFACTION. Journal of Applied Management (JAM), 16(4). https://doi.org/10.21776/ub.jam.2018
Peter G Northouse. (2013). Kepemimpinan (6th ed.). Indeks.
R.l Mathis, & J.H, J. (2016). Human Resource Management. Cengage Learning.
Rahayu, M., & Waskito, K. (2020). THE EFFECT OF SERVANT LEADERSHIP AND INTRINSIC MOTIVATION ON THE PERFORMANCE (ANALYSIS OF LECTURER'S PERFOMANCE AT MANAGEMENT PROGRAM OF PRIVATE UNIVERSITY IN BANDUNG).
Rantesalu, A. (2016). Effect of comptence, Motivation, and Organizational Culture on Employee Performance: Mediation Role of Organizational Commitment.
Robert K Greenleaf. (1999). Servant Leadership.
S.L. Mc Shane, & M.A.V Glinov. (2018). Organizational Behavior. Mc Graw - Hill Education.
S.P. Robbins, & T.A. Judge. (2017). Organizational Behavior. 17th Global, Pearson Education Limited.
Sulasmi, S. (2016). THE EFFECTS OF COMMITMENT, COMPETENCE, WORK SATISFACTION ON MOTIVATION, AND PERFORMANCE OF EMPLOYEES AT INTEGRATED SERVICE OFFICE OF EAST JAVA. In International Journal of Advanced Research (Vol. 3). http://www.journalijar.com
Tone, K. (2018). Examining the Moderating Effect of Work Motivation on the Lecturer Performance: A Contribution to Organizational Commitment and Competence. Research in Business and Management, 5(2), 1. https://doi.org/10.5296/rbm.v5i2.12773
Varmakant. (2017). Important of Employee Motivation and Job satisfaction for Organizational Performance. International Journal of Social Science & Interdisciplinary Research, 2.
Wirawan. (2017). Kepemimpinan: Teori, Psikologi, Perilaku Organisasi, Aplikasi dan Penelitian (2nd ed.). Raja Grafindo Persada.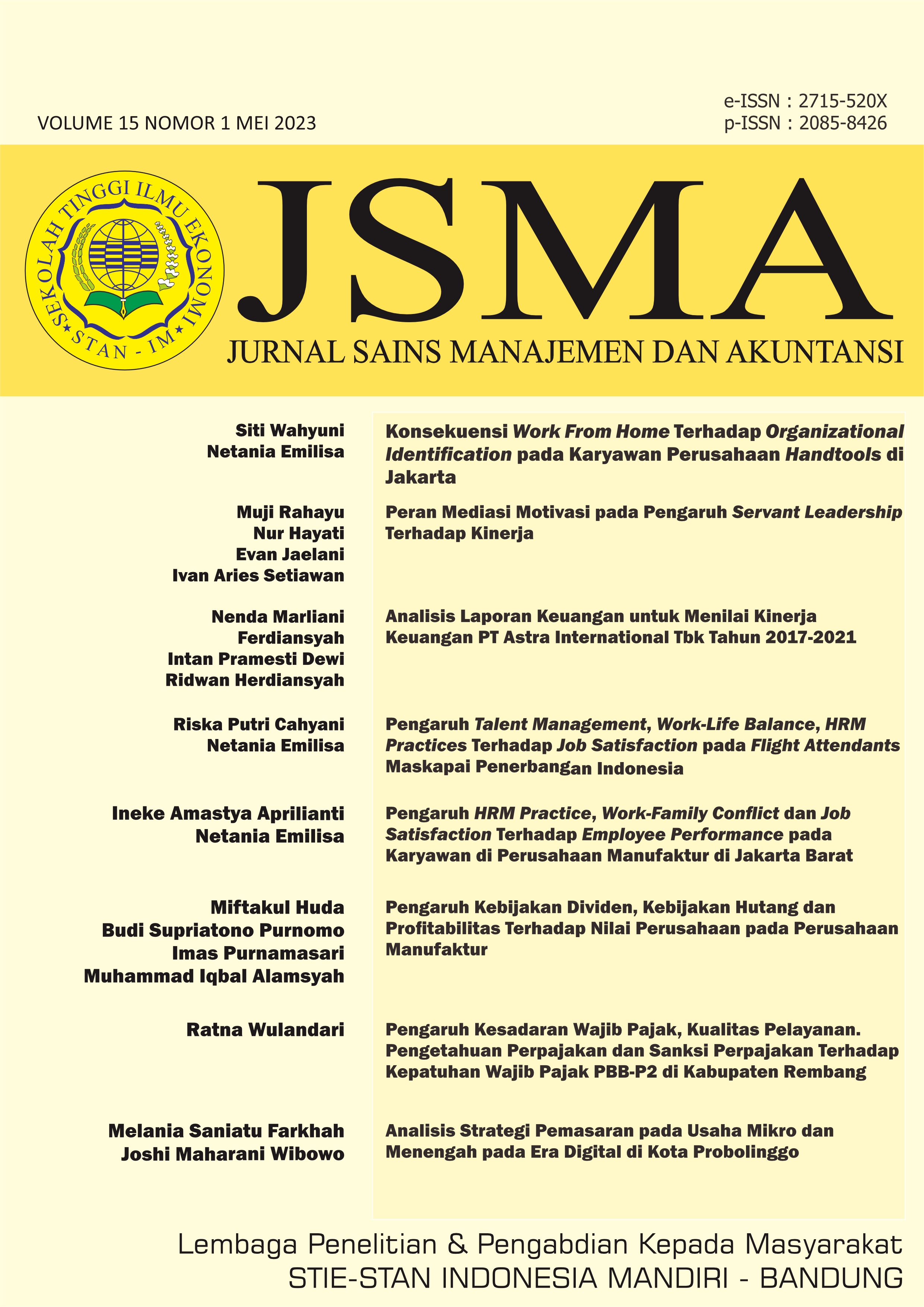 Copyright (c) 2023 JSMA (Jurnal Sains Manajemen dan Akuntansi)
This work is licensed under a Creative Commons Attribution 4.0 International License.
Tanggunjawab Penulis
Penulis menyajikan artikel penelitian atau hasil pemikiran secara jelas, jujur, dan tanpa plagiarisme.
Penulis harus menunjukkan rujukan dari pendapat dan karya orang lain yang dikutip.
Penulis bertanggungjawab atas konfirmasi yang diajukan atas artikel yang telah ditulis.
Penulis harus menulis artikel secara etis, jujur, dan bertanggungjawab, sesuai dengan peraturan penulisan ilmiah yang berlaku.
Penulis tidak keberatan jika artikel mengalami penyuntingan tanpa mengubah substansi