Pengaruh Tata Kelola dan Kinerja Perusahaan pada Perusahaan Sektor Manufaktur Kriteria Syariah di Indonesia
Widyasari

Universitas Ma'soem

Nur'aeni

Universitas Ma'soem
Keywords:
Tata Kelola Perusahaan, Kinerja Perusahaan, Perusahaan Manufaktur
Abstract
Tujuan dari penelitian ini adalah untuk mendalami pengaruh tata kelola perusahaan terhadap kinerja perusahaan pada perusahaan sektor manufaktur kriteria syariah. Penelitian ini menggunakan data sekunder dengan pendekatan kuantitatif. Sampel yang digunakan adalah sebanyak 89 perusahaan dengan rentang selama 4 tahun sehingga diperoleh sebanyak 356 data observasi. Analisis data menggunakan regresi data panel dan kemudian dilakukan uji asumsi klasik. Hasil penelitian berhasil membuktikan bahwa ukuran direktur dan komisaris independen berpengaruh positif dan signifikan terhadap kinerja perusahaan manufaktur kriteria syariah yang dibuktikan dengan tingkat signifikansi kedua variabel berada di bawah 0,05.
References
Alias, N., Yaacob, M., Rahim, R., & Nor, F. M. (2017). Board structure, free cash flow and dividend per share in Malaysia listed firms: An empirical study of interaction effect. Undefined, 12(2), 58–67.
Allegrini, M., & Greco, G. (2013). Corporate boards, audit committees and voluntary disclosure: Evidence from Italian Listed Companies. Journal of Management & Governance, 17(1), 187–216. https://doi.org/10.1007/s10997-011-9168-3
BKPM. (t.t.). Industri Manufaktur di Indonesia Sebagai Basis Produksi di ASEAN. Diambil 5 Februari 2021, dari https://www.investindonesia.go.id/id/artikel-investasi/detail/perkembangan-industri-manufaktur-di-indonesia
Bozec, R. (2005). Boards of Directors, Market Discipline and Firm Performance. Journal of Business Finance & Accounting, 32(9–10), 1921–1960. https://doi.org/10.1111/j.0306-686X.2005.00652.x
Chalevas, C. (2011). The Effect of the Mandatory Adoption of Corporate Governance Mechanisms on Executive Compensation. The International Journal of Accounting, 46(2), 138–174. https://doi.org/10.1016/j.intacc.2011.04.004
Denis, D. K., & McConnell, J. J. (2003). International Corporate Governance. Journal of Financial and Quantitative Analysis, 38(1), 1–36. https://doi.org/10.2307/4126762
Falah, W. M. Y. (2017). The Effect of Corporate Governance on Financial Performance of Listed Companies in Palestine Exchange (PEX). International Research Journal of Finance and Economics, 162, 88–106.
Fama, E., & Jensen, M. (1983). Separation of Ownership and Control. Journal of Law and Economics, 26(2), 301–325.
Golden, B. R., & Zajac, E. J. (2001). When Will Boards Influence Strategy? Inclination x Power = Strategic Change. Strategic Management Journal, 22(12), 1087–1111.
Gujarati, D. N., Porter, D. C., & Gunasekar, S. (2012). Basic eeconometrics. Tata McGraw-Hill Education.
Haniffa, R. m., & Cooke, T. E. (2002). Culture, Corporate Governance and Disclosure in Malaysian Corporations. Abacus, 38(3), 317–349. https://doi.org/10.1111/1467-6281.00112
Hillman, A. J., & Dalziel, T. (2003). Boards of Directors and Firm Performance: Integrating Agency and Resource Dependence Perspectives. The Academy of Management Review, 28(3), 383–396. https://doi.org/10.2307/30040728
Irshad, R., Hashmi, S., Kausar, S., & Nazir, M. I. (2015). Board Effectiveness, Ownership Structure and Corporate Performance: Evidence from Pakistan. Journal of Business Studies Quarterly, 7(2), 46–60.
Jensen, M. C. (1993). The Modern Industrial Revolution, Exit, and the Failure of Internal Control Systems. The Journal of Finance, 48(3), 831–880. https://doi.org/10.1111/j.1540-6261.1993.tb04022.x
Jensen, M. C., & Meckling, W. H. (1976). Theory of the firm: Managerial behavior, agency costs and ownership structure. Journal of Financial Economics, 3(4), 305–360. https://doi.org/10.1016/0304-405X(76)90026-X
Kyereboah‐Coleman, A., & Biekpe, N. (2007). On the determinants of board size and its composition: Additional evidence from Ghana. Journal of Accounting & Organizational Change, 3(1), 68–77. https://doi.org/10.1108/18325910710732867
Monks, R. A. G., & Minow, N. (2011). Corporate Governance, 5th Edition (5th ed.). Wiley. https://www.wiley.com/en-us/Corporate+Governance%2C+5th+Edition-p-9780470972595
Musah, A., Adjei, E., Akomeah, E., & Ahmed, I. A. (2019). Corporate Governance, Gender Diversity and Bank Performance: Evidence from Ghana. Indonesian Journal of Corporate Governance and Social Responsibility, 1(1), Article 1. https://doi.org/10.28992/ijcgsr.v1i1.82
Shleifer, A., & Vishny, R. W. (1997). A Survey of Corporate Governance. The Journal of Finance, 52(2), 737–783. https://doi.org/10.1111/j.1540-6261.1997.tb04820.x
Solomon, J. (2020). Corporate governance and accountability. John Wiley & Sons.
Sriyana, J. (2014). Metode Regresi Data Panel. Ekonisia.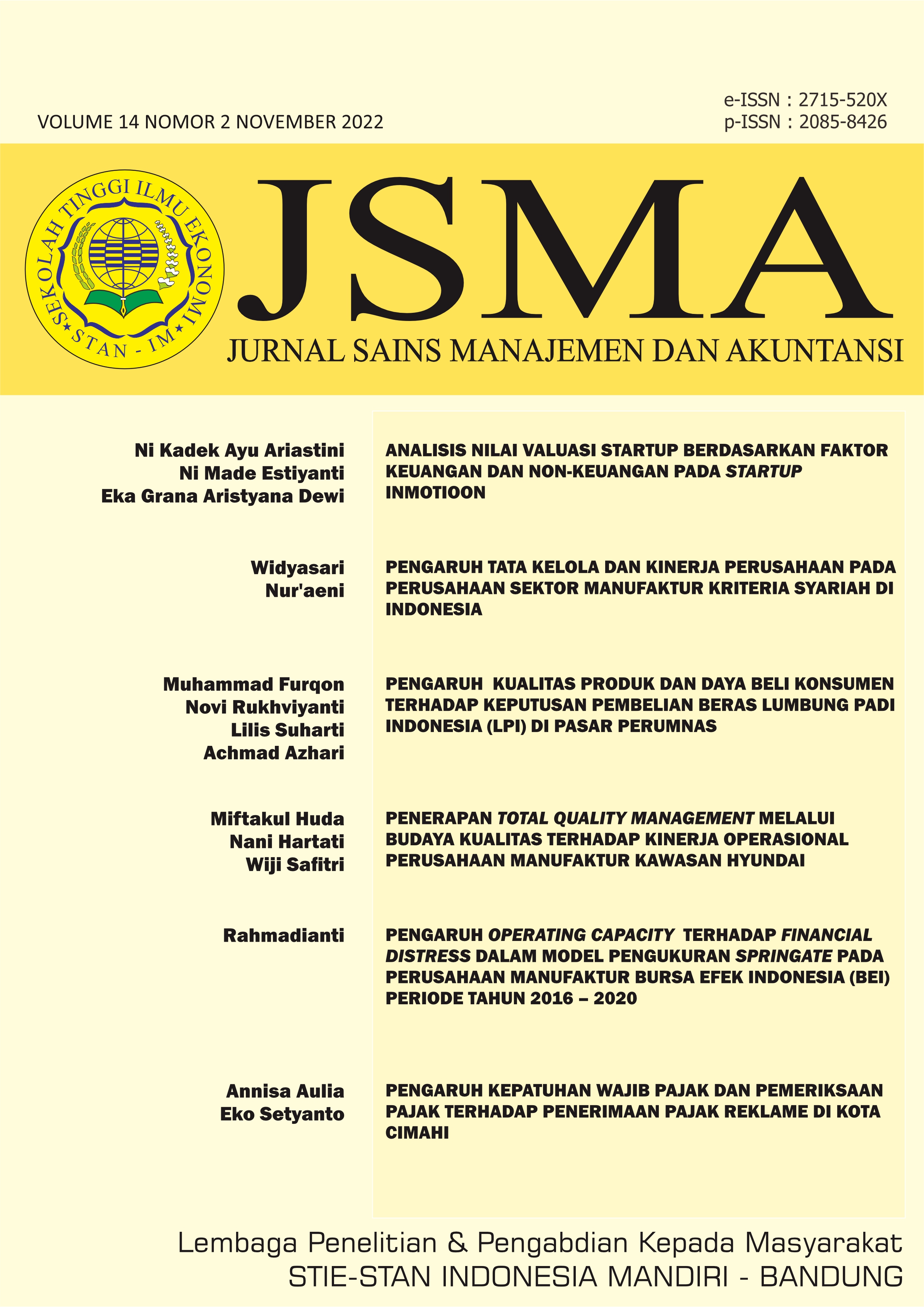 Copyright (c) 2022 JSMA (Jurnal Sains Manajemen dan Akuntansi)
This work is licensed under a Creative Commons Attribution 4.0 International License.
Tanggunjawab Penulis
Penulis menyajikan artikel penelitian atau hasil pemikiran secara jelas, jujur, dan tanpa plagiarisme.
Penulis harus menunjukkan rujukan dari pendapat dan karya orang lain yang dikutip.
Penulis bertanggungjawab atas konfirmasi yang diajukan atas artikel yang telah ditulis.
Penulis harus menulis artikel secara etis, jujur, dan bertanggungjawab, sesuai dengan peraturan penulisan ilmiah yang berlaku.
Penulis tidak keberatan jika artikel mengalami penyuntingan tanpa mengubah substansi